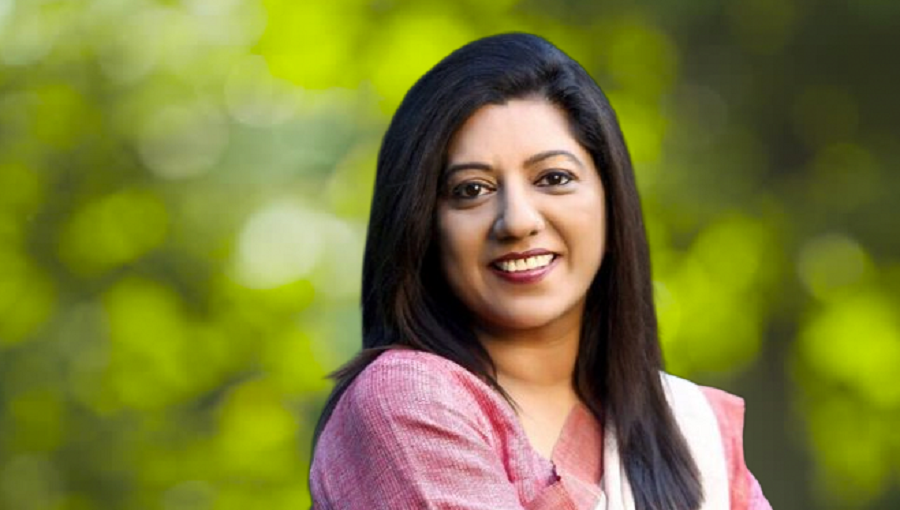 Inspiration
One for the cocoon
Her plush office accentuates her position in the pecking order at the sprawling Gujarat government secretariat. The job entails long hours of work, going through a labyrinth of bureaucratic rules and regulations, at times brainstorming sessions at meetings with district functionaries and a plethora of files to sign. She has been into it for nearly three decades now. Deep down though, Anju Sharma, principal secretary, Higher and Technical Education, Education Department, Government of Gujarat, has harboured the urge to write since her school days.
So, breaking free from the weight of her prized post, she found time out of the hectic schedule to write a couple of books. And the subject matter largely centres round the ripples in the quiet waters of life and the resulting angst or a feeling of anxiety or apprehension.
So in her first book entitled I of the Storm, Anju perks up the readers, especially, the young, appealing to manage setbacks in life, learn from it and emerge stronger out of it. She says that by discovering your potential, one can tide over problems and face life with renewed confidence. She lays much store by mindfulness or what she terms as spiritual intelligence to face it all.
"An occasional hurt or loss in life presents an opportunity to take a fresh look at our attitudes, expectations, insecurities, attachments and fears. If one does not learn to deal with it with positivity, it could affect his or her being leading to psychosomatic symptoms," she emphasizes.
Essentially she advises individuals to learn to get rid of all emotional baggage as it shatters one to the core. Interestingly, she employs an analogy of a cocoon and a turtle to drive home the point. Caterpillars or silkworms feed on mulberry leaves. Having grown, they weave a net called cocoon to hold themselves. While inside the cocoon, they shed their skin and grow into a pupa and then into moths.
So, the caterpillar withdraws itself into the cocoon but while there, it grows. Likewise, an individual could also grow into maturity to weather the storms in life if one dives into untapped frontiers of self. The turtles, on the other hand retract their heads and limbs under their hard shells but do not grow. This, in essence, is the coping strategy she prescribes.
Her second book, Corporate Monk deals with people who have achieved a lot in life and yet feel a void in life and are uninterested in everything around them. In executive burnout, an executive would feel exhaustion of physical or emotional strength or motivation resulting from prolonged stress or frustration.
In Corporate Monk, the author, learning from her own experiences, addresses the issue of burnout through the protagonist called Arjun who despite being a successful executive, is gripped by burnout. He then turns to Aman, his friend who plays the role of a corporate mentor or life coach. Aman has faced it all earlier and guides Arjun to deal with it.
The author also seeks to break some gender stereotypes through some female characters in the book. The protagonist is a male but there are several female characters as wife, friend, etc. Women who are portrayed as having their own stuff as individuals. They have their own aspirations and demands. Of what they want out of life. And how they respond when they don't get it. They are not portrayed as lesser beings. For example, Sayali, a bright student and an MBA gets married and later abused by her husband. Her in-laws are moneybags and don't allow her to work. She bears with it upto a point. When she can't take it anymore, she walks out of marriage and emerges a stronger woman, taking charge of her life.
The protagonist's wife is also portrayed as one with her own wants to satisfy. He, Arjun, spends about 12 to 18 long hours a day in office, utterly neglecting his family. After years of neglect, the family is on the verge of disharmony. That is when he finds time to reflect upon it and begins to see things through his wife's eyes and make amends.
"The most glaring gender stereotype is that man looks at a woman as weak and vulnerable and not even as an individual. There is objectification of a woman. And they (women) have to move from vulnerability to security. We have to make them feel confident, that they are safe and also that they have their own strengths," Anju says emphatically.
Modern times have brought with them a turf war that both youth and upwardly mobile people have to worm their way out of and overcome. To address this rising societal trend, Anju seeks spirituality with a scientific temper while delinking it from religion or rituals. She suggests stages to find a way out of the stress-ridden times including awareness, equanimity, compassion, purpose, faith and joy.
For the young she advises that they should not allow peer pressure or rivalry thwart their progress. Significantly, the young should also make wise use of the technology that has found its way into our lives today. She juggles the roles of a mom, a busy bureaucrat and a writer doing justice to all.
"A working mother need not be with her children all round. What matters is she should be available when they want her and should support them," she feels. The young, she feels, should also learn to deal with failures which take place in life.
"Everyone can deal with success but failures are hard to face," says she. "The earlier the young imbibe the art of coping strategy, the better," she adds. Asked what is more satisfying for her, administration or writing, she clarified that while administration is my mind, writing is my heart."
Down the years as an IAS, Anju Sharma took several initiatives that were indeed laudable. While with the health department in 2010, she floated e-Mamta, leveraging information and communication technology to track the progress of pregnant mothers and integrating non-recipients of services into the health care system. e-Mamta is thus a mother and child tracking information management system to facilitate effective citizen-centric delivery system. The scheme also received the NASSCOM Social Innovation Honour in 2012 and the 15th National e-Governance Award in 2012 for spectacular contributions in citizen-centred delivery.
Another initiative empowering women in the state was that of '181 Abhayam Mahila Helpline' to provide crucial emergency help to women in distress anywhere in the state. The Helpline has now been developed into mobile App as an effective communication covering android phones through GPS. While the woman's identity is kept secret, the rescue van with counselor and a female cop are rushed to the spot. It includes cases of domestic violence also. The 181 helpline has so far reached over four lakh women so far for immediate help and counselling.
One more interesting project that has become popular in the state is Khilkhilat which is an ambulance service without siren and designed to drop the mother and the newly born child to their home free of cost. With cartoons on the body, this ambulance van blows horn that resembles a laughing child's voice. And the van also provides nutrition kit for the newly-born with a list of vaccines to be given. Asked what she would have been if not into IAS, she said it would have been either an entrepreneur or a corporate executive.
Her father though, who was a judicial officer, inspired her to aim at IAS which she cleared while she was only 22. Somewhere, in the vast spectrum of the Indian Administrative Service, there are some officials who leave an imprint on the sands of time. Officials, like Anju Sharma appear on the horizon like trailblazers and champions of change. They deserve all the spotlight we can shine on them, for, they believe in infusing fresher ideas, refuse to be stifled by red-tapism and push for off-kilter approach in bettering the lives of yours and mine.