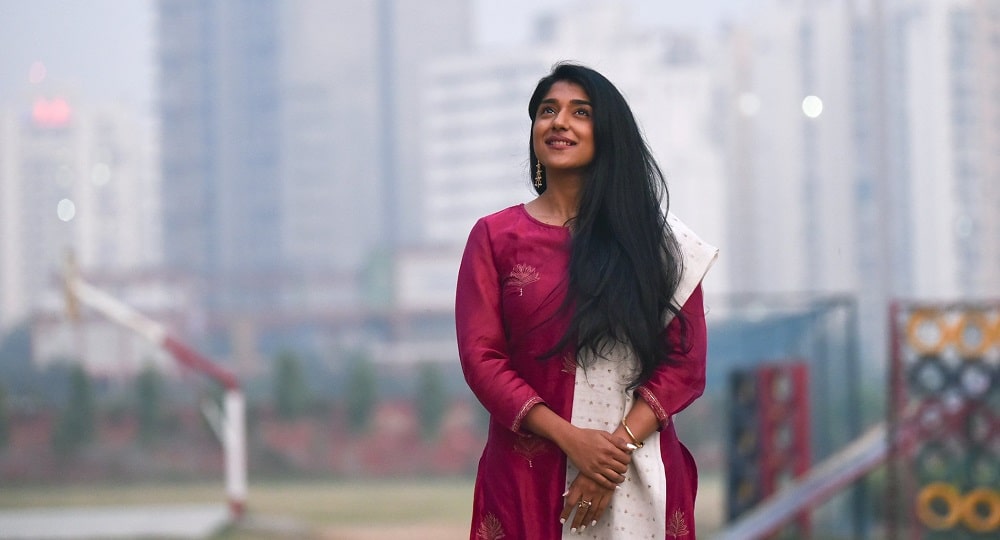 Personalities
Priya Prakash: Building a healthier tomorrow
Health is a concept we imbibe after we have immensely mistreatedour bodies and it couldn't take it anymore from us. But PriyaPrakash is driving the movement across India to address this lackadaisical and reactionary attitude towards adopting a healthy lifestyle. Something we do after falling ill or not something to prevent it. Priya Prakash is a healthcare entrepreneur and the Founder and CEO of HealthSetGo, India's largest healthcare organisation for school with the vision to establish the largest network of health promoting schools in the country, HealthSetGo currently operates in over 70 cities across India with 85,000 students with its flagship programme CARE. Additionally, she is a Global Shaper with the World Economic Forum, taking up many socially impactful projects for rural India. She is aTedx Speaker, Crossfit L1 Trainer and an avid health blogger with a passion for Olympic Weightlifting.
Priya's journey
27 year-old Priya Prakash had very personal reasons for founding her business, HealthSetGo, a company offering comprehensive health services to India's schools. As a teen, Priya was bullied at school for being overweight. At college she starved herself and suffered from binge eating. "I was in a physically and mentally abusive relationship with myself and I wasn't aware of it," says Priya, "I went from being a promising student to a D-grader."
As a mentally and physically healthy woman today, she has a healthy body weight and can lift 200 pounds off the Floor, run 15Kms without stopping and loves her body. It was then she realised that her life's mission would be to ensure that everyone knows what she does, that everyone is empowered, aware and can take action from an early age.
A life-changing moment
It was in a gym that she met the person who would change her vision: a weightlifting coach who believed in her. "Thanks to him I fell in love with fitness and weightlifting. It turned my life around. I took all the mental and physical strength I built in the gym to heal myself." In 2017 Priya won the silver medal at the Delhi State weightlifting championship. But only after she had created HealthSetGo.
The young CEO knew from the outset that she wanted to start her health programme with children. "There were no official health curriculum and no organised benchmark for schools to follow," she says. To start, she approached one school. "The principal helped me understand that before offering solutions for healthcare, fitness and nutrition, you have to make people aware of the problem." After testing her model there for over a year, Priya hired an intern then an employee and was ready to go.
Building health from a tender age
HealthSetGo started about 2.5 years ago and since then it has been a constant process of evolution. Everything she and her team have done till date has been with one mind-set: how can we impact the millions of students in thousands of schools in India in a positive way. The thing about starting something that has never been done before is that it can be a boon and a bane. The tagline at HealthSetGo is 'The benchmark for healthy schools' because we are building the benchmark!
The misconception surrounding health in our society
What shocked Priya through her own journey was how starkly clueless everyone else was : Including her family, her peers, her teachers. She had to guide herself and do her own research to get where she is today. She was lucky enough to find a coach and be immersed into an active environment which encouraged her to change her entire lifestyle. Today we are living in a world where if anyone wants to be healthy: they have to fight constant distraction and stimuli and I'm afraid that many people fail at doing that. They end up frustrated and in hospitals with chronic diseases.
"I would like to make a distinction clearly between sick-care and healthcare which according to me is a distinction that nobody is making. Falling sick, being afflicted with a chronic condition and getting medication for it is not an act of health. An act of health is preventive. From the beginning, we learn how to walk, talk; we learn the alphabet, physics, mathematics; but where is the fundamental vital education of how to take care of ourselves and be healthy? It isn't there throughout the education system. I would definitely say that's the biggest reason," says Priya.
With HealthSetGo the idea is not to cure the broken, but to prevent in those who haven't succumbed to the ill effects of bad health: children! In the end it all boils down to our daily habits and behaviour towards food. With children healthy habits are easier to develop at school through health education. With our engaging content for Schools via the HealthSetGo CARE program we do just that.
We curate health content age-wise for students. To appraise the parents of their child's health, HealthSetGo conducts a comprehensive health assessment at School for each child to monitor their growth and development. Any early signs of disease are quickly caught on during these assessments and parents are empowered to take action.
Our health experts personally give a tele-consultation to each and every parent to ensure that we resolve all their queries and help their children get the care they need. Since everything is automated, Parents can access their child's medical reports at any time at the click of a button. Our school wide health reports also help schools plan targeted, data driven interventions at School.
The first awareness point comes with parents when we send them their child's health reports. Many Parents are not aware of the issues that their children are undergoing and it's an eye opening experience for them talking to our experts about their child's health. In fact, parents are encouraged to call us year round for any queries!
As stated earlier, we create engaging content to educate the students about health in the classrooms, but the interesting part about that is that the cards on which students are asked to do their projects have tips and suggestions for parents at home on how to be healthy!
Every time the students take them back home, the parents get educated as well! We constantly generate content for Parents which is shared via newsletters.
Being an entrepreneur is a 24/7 attitude
"Being an entrepreneur for me has been a very emotional journey and each day has made me wiser than the previous day. Any entrepreneur is basically a CEO: Chief Everything Officer! Whether it's Sales, marketing, finance, product, tech, ops: you have to get your hands dirty in all areas.As the team has grown of course, it becomes more management and delegation and you have to focus on what's the 5 year plan for the organisation. It's more of the mindset than anything that grows: your organisation , your work and your life basically are the same thing and the boundaries are very blurry if any. My good idea of a weekend now is spending time by myself planning new products for HealthSetGo and it does NOT seem like work! It's a 24/7 attitude," says Priya.