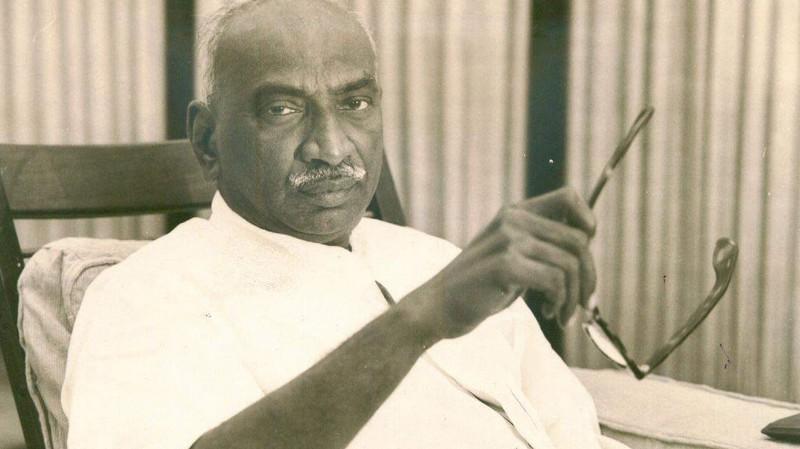 Inspiration
Your role model Kamarajar
Leadership is the capacity to translate vision into reality
Kamrajar's life story from 15 July 1903 to 2 October 1975 had been stranger than fiction for its unbelievable incidents and turn of events. He was almost an illiterate with no formal education and born in a poor toddy tapper's family in a remote village but rose to great heights of eminence in the political arena.
His life in a nutshell
Kamarajar joined school in 1907 but his father died in 1909. His mother being a housewife was forced to sustain the family. In 1914, he dropped out of school to support his mother and younger sister. As a young boy, he worked in his uncle's provision shop.
During that period, Kamarajar began to attend public meetings and processions of Indian Home Rule Movement. The Jallianwala Bagh massacre in 1919 was a turning point in his life when he joined the Freedom Movement as a full-time worker. His relatives urged him to get married and settle in life. But he informed of his decision to continue in politics without getting married. He organized public meetings and led several agitations because of which he was imprisoned six times for more than 3,000 days. Only in jail, he learnt Tamil and a little English.
Kamarajar was the Chief Minister of Tamil Nadu during 1954-1963 and MP during 1952-1954 and 1969- 1975. He served as Congress President at the national level between 1964 and 1967. After the death of Nehru in 1964, he was instrumental in bringing Sri Lal Bahadur Shastri to the prime ministerial post and after his untimely death, Indira Gandhi as PM in 1966. The selfless man as he is, he declined the offer to become the Prime Minister himself. He was aptly called the "King Maker" for this role.
His contribution towards education
During the government previous to Kamarajar's, 6,000 schools had closed due to insufficient funds. But during his period, those 6,000 schools were re-opened and 14,000 new schools were started so that poor rural students had to walk no more than three km to attend school. He strived to eradicate illiteracy by introducing free and compulsory education up to the eleventh standard. He brought out free school uniforms to weed out caste, creed and class distinctions among young minds.
Kamarajar's Assistant once told him, if they have Rs.2 lakhs, they can shoot a short film to explain their achievements so that his party can easily win in the next election. But Kamarajar retorted, "If I have that money, I'll construct four schools." Such was his determination to build schools.
One day when Kamarajar was travelling by a car near Cheranmahadevi, he was stopped by a closed railway gate. He got down and saw a boy pasturing cows. He casually enquired with the boy why he has not gone to school. The boy replied, "If I go to school, who will give me food?" Kamarajar asked him instantly, "If I give food, will you go to school?" The boy looked at him sarcastically and left the place.
On reaching headquarters, Kamarajar arranged to introduce the Mid-day Meal Scheme to provide at least one meal per day to the lakhs of poor children. This Scheme had been copied almost by the entire country later on and it is estimated to benefit roughly 11.77 crore students now. During the British regime, the education rate in Tamil Nadu was only 7%. But after Kamaraj's reforms, it reached 37%. The strength of the school children in Tamil Nadu had been increased from 18 lakhs in 1954 to roughly 40 lakhs in 1962.
Kamarajar also took steps to improve the quality of education. Towards this, the number of working days was increased from 180 to 200. Syllabi were prepared to improve various abilities. There was only one Branch Library in 1953. But before 1961, 454 libraries were added. He also took efforts to establish IIT Madras in 1959. Above all, he did not give up any welfare measures, even if it violated law as he always insisted that law is meant for people and not vice versa.
His contribution towards agriculture
Dams and irrigation canals were built during Kamarajar's period across Bhavani, Cauvery Delta, Mani Muthar, Aarani, Vaigai, Amaravathi, Sathanur, Krishnagiri, Pullambadi, Mettur Canal Project, Parambikulam and Neyyaaru among others. More than 2,000 new wells were dug with outlets and 33,000 lakes were created or restored.
Long term loans with 25% subsidy were granted to farmers. Oil engines and electric pump sets were disbursed against loans. These measures were helpful to irrigate several lakh acres of land apart from providing drinking water. He also introduced Panchayat Raj in 1958.
His contribution towards industries
During Kamarajar's rule, industries with huge investments were established, viz., Neyveli Lignite Corporation, BHEL at Trichy, Manali Refinery, Hindustan Photo Film Factory at Ooty, Surgical Instruments Factory, Hindustan Teleprinters Ltd., Integral Coach Factory, Avadi, Heavy Vehicles Factory, Periyar and Kunda Hydro Power Generation Projects. He brought the first industrial estate zones to Tamil Nadu.
Honesty and integrity
Kamarajar led a simple life wearing only a half shirt and dhoti and was the epitome of honesty and sincerity. Nehru used to admire his simplicity by telling, "He doesn't have any money in his pocket." Besides he praised him as "People's leader." Kamarajar never allowed even his mother to stay with him for more than three days. She lived in her native place and he used to send only Rs.120 per month towards her maintenance.
After becoming CM in 1954, Kamarajar contested in the election at Gudiyatham. While canvassing, people in that area demanded a flyover his friends persuaded him to promise the same. But Kamarajar replied, "We can construct it after the election. But I can't promise because the opponent without power cannot give such a promise. If I promise, I'm misusing my power and it won't be democratic."
During his tenure as Chief Minister, when the municipality of Virudhunagar provided direct water connection to his house in his hometown, Kamarajar ordered it to be disconnected immediately as he did not want any special privilege.
Ten medical college seats were allotted to Chief Minister as his quota. When the Health Secretary presented the list along with the original applications, Kamarajar selected 10 candidates within three minutes. When the Secretary was curious to know the criteria, he revealed "I selected the candidates whose parents have put their thumb impression. At least let their next generation will be educated."
Kamarajar refused to use the Z-level security provided to him and instead travelled with just one police patrol. He did not marry nor own any property. When he died, he left behind 130 rupees in cash, four shirts, four dhotis, two pairs of sandals and a few books. This reminds us of Gandhi's quote "The best way to find you is to lose yourself in the service of others."
Accolades
Kamarajar is widely acknowledged as "Kaalaa Gandhi", Determined Fighter (Karma Veerar) and Father of Education (Kalvi Thanthai). Once he attended a meeting in Gujarat as a national leader. The entire audience were hailing and shouting "Kamaraj… Kamaraj." Then he was invited to address.
Though he could understand Hindi, he was not well versed to talk in Hindi that too on stage. So he spoke only in Tamil without any translation. For each sentence, the people clapped. After his speech, somebody in the press asked a few people in the audience as to what they could understand from his speech. They all said, "He is a people's leader and whatever he said must be a blessing to us." That is how he touched the heart of the people.
Kamarajar was living only in a rented house in Theagaroyanagar which had been converted into a museum after his death. Other museums were constructed in Kanyakumari, Virudhunagar and Kallikudi apart from the one in Guindy where he was cremated.
The erstwhile Ennore Port Ltd., had been renamed as Kamarajar Port Ltd. The domestic terminal of the Chennai airport is named "Kamaraj Terminal". North Beach Road in Chennai had been renamed as "Kamarajar Salai". North Parade Road in Bengaluru and Parliament Road in New Delhi were also named after him. Madurai Kamaraj University is named in his honour.
In 2004, a Tamil film titled 'Kamaraj' was produced based on his real life and its English version released in 2007. In 2003, the Government of India released a commemorative coin on his birthday. His birthday is declared as 'Education Development Day'. He was awarded with India's highest civilian honour, the Bharat Ratna, posthumously in 1976. His birth was an event but his death became history.
"Nobody can go wrong in exclaiming his governance as the Golden Era of Tamil Nadu."