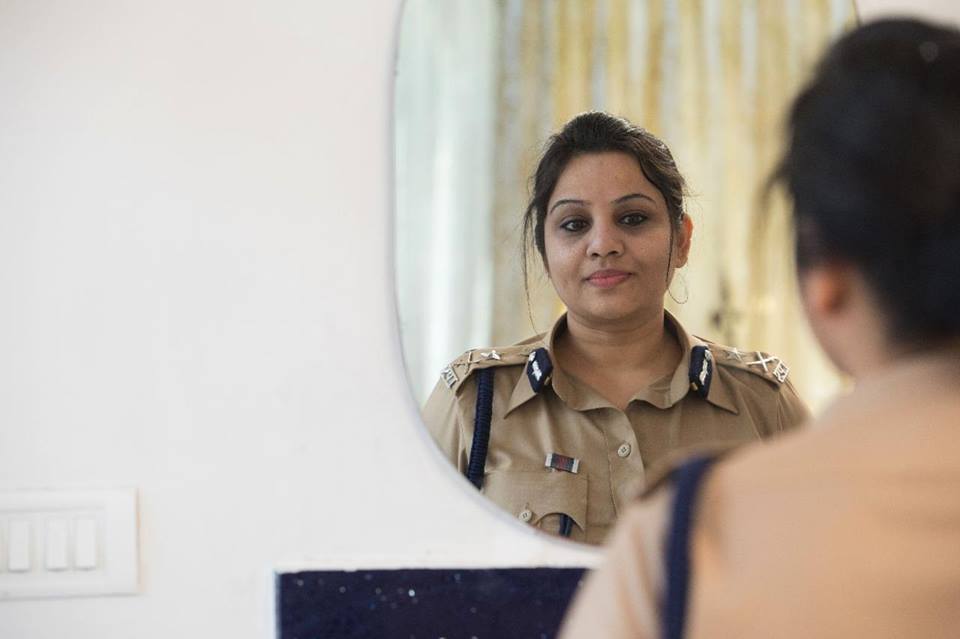 Women Power
D. Roopa Moudgil: A tough woman cop who takes on VIPs and the corrupt
If D. Roopa Moudgil had her way, she would single-handedly extricate Indian public servants from the tentacles of VIP culture. "Somebody has to do the dirty job. I chose to do it," says Roopa. D. Roopa Moudgil, the first lady IPS officer of Karnataka, says how she hasn't let 44 transfers over 18 years faze her, and how she continues to be fearless in what she does - every single day. Her mantra for being fearless: Don't bother about the past or future, live in the present!
Her story seems straight out of a Bollywood movie – a fearless super cop dedicated to the job. But it isn't filmy fiction, and it's not a man. D. Roopa Moudgil is an inspiration for women in not just the Indian Police Service, but for countless others too, for she has been fearless in following her dreams despite the toughest of challenges.
D. Roopa Moudgil, the first lady IPS officer of Karnataka, is currently serving as Inspector General of Police, Home Guards and Civil Defence. Her story is not just inspirational but also a guide for women who feel that they can't break the ranks and rise in a male-dominated workforce.
Roopa's dream
Born in the family of an IAS officer, Roopa had decided early on that she was going to join the civil services. A meritorious and high-ranking student through school and college, she sailed through the rigorous UPSC examination and got an all-India rank of 43. She chose to be an IPS officer due to her love for the khaki uniform and all that it symbolised. Roopa graduated as an IPS officer of the 2000 batch, becoming the first lady police officer of Karnataka.
It is all about being fearless
In a career spanning almost two decades, she is close to hitting half a century as far as transfers are concerned. Roopa has never hesitated to call a spade a spade and this attitude has gotten her into trouble with seniors and a few politicians along the way. But she says, "You have to do what your job demands."
From arresting the CM of Madhya Pradesh in 2004 to reporting about irregularities and corruption in Bengaluru prisons, she has done whatever her job needed her to do.
Ask her how she has continued to be fearless and Roopa promptly says, "The ability to speak your mind comes from two aspects – one is competence and the other is moral courage. Competence means knowing your job well, knowing what rules permit and what they don't, and following them. Moral courage comes from the fact that you have got nothing to cover up, nothing to be embarrassed about because you're right. When you are not bothered about the past or the future and are living in the present, it makes you fearless."
Working on challenges
It is easy to blame circumstances and challenges, but that is the one thing Roopa avoids. She chooses, instead, to make the most of challenges that crop up. She recalls how while she was posted in Yadgir, Karnataka, there was no official residence quarter and she had to live in a village – that's where her daughter started her formal education. "My daughter would study in the school in the village and she did her first three years of formal education from that school."
Roopa continues with the same energy and vigour with which she started her career. She says, "Decide what you want to do. Have a goal and dream about it but don't just keep daydreaming. Follow it, pursue that dream. Make a plan on how you will achieve it and visualise it, and keep working towards it step-by-step. Stay focused. Don't lose your focus, irrespective of what people may tell you. Keep away from negative thoughts. Believe in yourself. A person who achieves something finally is the person who thinks he or she can."
Who says you can't?
In a male-dominated workforce like the IPS, gender bias is the norm. Roopa says, "In the Academy, we are trained to think of ourselves as an officer first and then a woman." However, once the women are out of the Academy and get their postings, the powers-that-be often do wonder if they will be able to fulfil the demands the posting makes.
Roopa says, "People will make discouraging and negative comments and women have to not let get it to them. They need to push on, for the more the number of women in the force, the more things will change for women."
Never surprised by any transfer, Roopa says she's "always ready to move". Perhaps that is what makes her fearless when it comes to discharging her duties with honour – as long as she is right, she doesn't let the challenge get to her.
I love my job and make sure that I am doing it right – honest, transparent, and true to the oath that I took before taking up the office. Today, I am happy when people say that my actions and talks inspire them. We women ought not to get deterred by challenges. We should muster the strength to be ourselves, believe in ourselves and chase our dreams to the very end. We are here to forge ahead - D. Roopa Moudgil, IPS.
Before signing off
Kiran Bedi, former IPS officer, had praised D. Roopa Moudgil and tweeted "Our country needs more of her kind." We second her! We have nothing but respect and admiration for this brave heart. Thanks to her, our country is a much safer place to live in.